You love your customers. You want to let them know. You've probably had a "love you bye" slip at some point.
It's common for businesses to send out customer greeting emails during the December holiday season, but a Valentine's Day greeting could be a little unexpected surprise. Read on to get:
The dos and don'ts of a Valentine's Day customer greeting.
Over 34 creative and genuine messages and email templates.
Actual examples from real businesses to inspire you.
Dos and don'ts of a Valentine's Day customer greeting
Before we get to the examples and templates, a little housekeeping:
Keep it short and sweet. Like any customer communication, the less clutter you have in there, the more clear the message will come through and the more memorable it will be.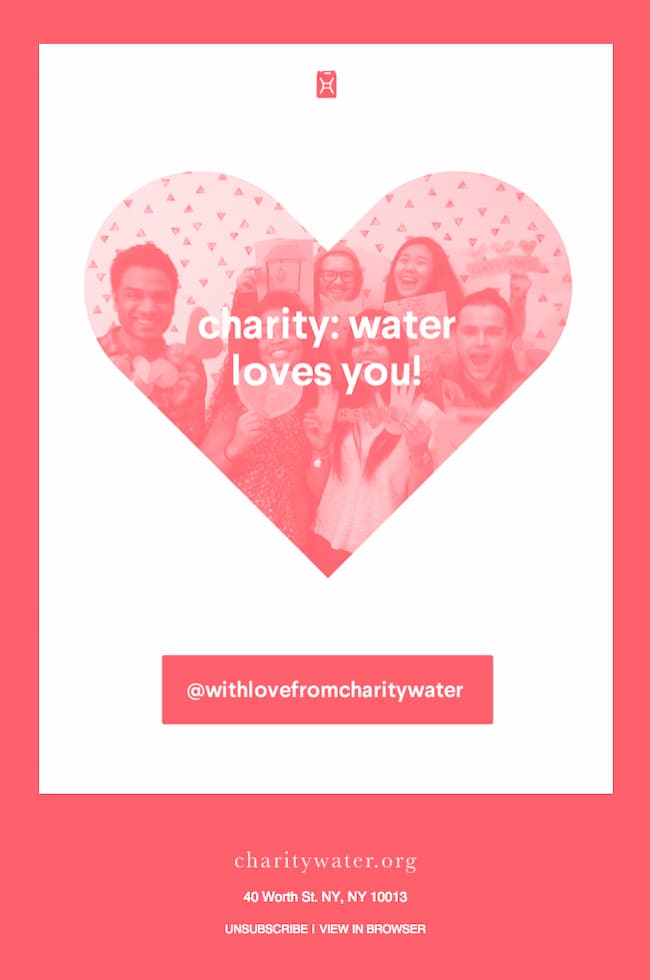 Doesn't get more short or sweet than that. (Image source)
Personalize it: You should always have some degree of personalization in your communication with customers, but for Valentine's Day emails and notes especially, you'll want to make sure you level it up to give it a genuine feel.
Don't make it a sales pitch. You can (and should) offer a little something in your message, but not angled in a way to get them to buy. Stay away from your typical deals and offer something that requires a little more thought. It's about surprising them with a gift, not increasing holiday sales.
Send it ON Valentine's Day: Again, this is not exactly meant to be a Valentine's Day marketing campaign. Send out your gift guides and early bird specials at the beginning of the month. Send your greeting out on the actual day.
Include something special: As I mentioned, this should be thoughtful and more personalized—so, not your typical sales promotion. Maybe a discount on a common item they order, a gift card, a freebie, or even a hand-written note. Offer a coupon for a free beverage or ice cream cone at a local mainstay. It could also mean a free resource roundup or guide, or a scrapbook or timeline visualization of your relationship with them. If you're limited on budget, make the offer only to your most loyal customers.
Be inclusive: Stay away from language about celebrating with your loved one (there are plenty of singles, widows, and lonely individuals out there) and make it about your relationship with them.
Use conversational tone: Stay away from formal speak. The less awkward you try to make it by dodging the L word or keeping it professional, the more awkward you're going to make it. The goal is not to be authoritative, it's to connect.
Dear Jane:
On behalf of [company] we would like to extend our appreciation to you, our valued customer on this Valentine's Day. We value the trust you put into our business and send you warm wishes on this sentimental day.
Awkward…
Hey Jane,

What better day than today to tell you how much we appreciate you? The fact that you trust us with your financial health makes us feel pretty dang special. So today we're returning the love. Here's a coupon for a free ice cream at the Cone Co. Happy Valentine's Day!
See the difference? It doesn't have to be cheesy. Just real.
Valentine's Day email ideas & templates for your customers
Here are some ideas, examples, and methods for sending your customer Valentine's Day greeting.
Send it in an email [shocking, I know]
Use this Birchbox email from Customer Appreciation Day (which occurs on the third Thursday of January, April, July, and October) as inspiration.
Today we're celebrating YOU.
It's Valentine's Day! Here's a little somethin' to say thank you (for being the awesomest.)
Every order ships free

Let's Party.
-Embraces the love? Check.
-Uses conversational copy? Check.
-Short and sweet? Check.
Put it in a social media post
A social media post is a little less personalized than an email, but you can still be thoughtful with it, making it a good option if you're pressed for time. You can get creative with it (how to use Canva here!).
Thank you for being such awesome customers. We heart you!
We wouldn't be where we are without you. Happy Valentine's Day!
An offer or freebie is not expected in a post like this, especially since it will reach such a wide audience. Plus, you're not asking recipients to open an email and read it. They can just stumble upon in their regular activity. Here, you can take more of the community approach, making your customers and followers feel a part of a bigger family.
You can find more February and Valentine's Day social media ideas here.
Send a direct message
Or, take the DM route, which provides the personalization of email and the convenience of social media. Just about every social media platform has a direct messaging function, A note like this could work:
Hey Mark!

I know we interact a lot via comments, likes, and shares, but I just thought I'd reach out via DM today to tell you how much your enthusiasm means to me. Your engagement with my content, attendance at events, and patronage at my business is SO appreciated. I just emailed you a little gift card to Milk Street Cafe. Treat yourself to a tasty lunch today!

Best,

Mia
Write a personal email
Of course, the above method works well in an individual email too. Remember, this is is NOT a blanket email where you just swap out first names. Each message should be unique to the customer.
Hi Theresa!

I promise I'm not into the Valentine's Day hype, so I'll do my best to avoid any cheesiness. I just wanted to let you know that every class you attend has a little extra pep in its step—you just have a certain spark that inspires others around you. That does not go unnoticed! And I really appreciate it. I've added three free classes to your card you can use at any time or use to bring a friend in. Happy Valentine's Day!

Adam
Mail handwritten cards
This is the ultimate personalized gesture. Great for your most loyal customers, or for all of them if you have a small clientele.
Howdy,

Just sending a note to let you know that we <3 you. Thanks so much for being a Stride customer! You = Awesome 🙂
If you ever need anything, give us a holler.

Much love, the Stride Crew

P.S. You can share the Stride love with 2 months free with the code stridefriends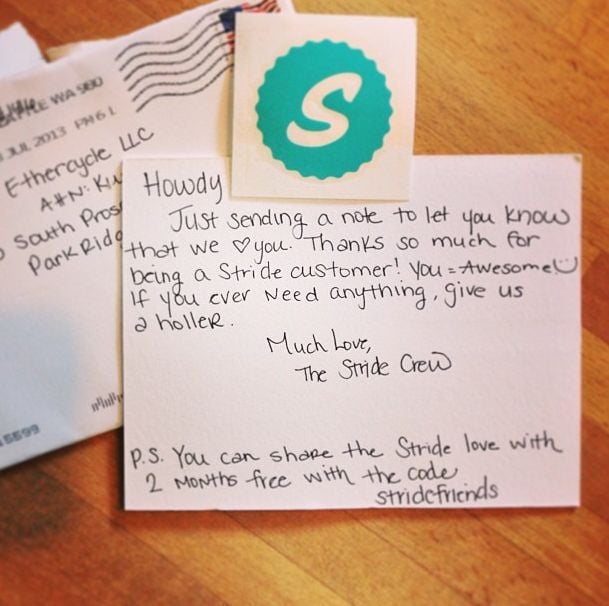 Friendly Valentine's Day messages for clients
Here are some more Valentine's Day messages and templates you can mix and match to craft your customer greeting.
What better day to express our appreciation for you than Valentine's Day?
We love [what your business does], but we love it even more when we do it for awesome customers like you.
There's no better day to say it. We heart you! And no better way to say it. Free coupon!
Thanks for being a fan of [business name] and the reason we love our jobs.
We love what we do because of you.
You mean a lot to us. To say thanks, we thought we'd give you a little break on your next visit.
Whether today has been hard or happy, sad or sappy, one thing is true: we are so glad we have you. Happy Valentine's Day.
Every day we feel so lucky to have customers like you. Now it's your turn to feel lucky with [offer].
Our business wouldn't exist without you. So thank you for choosing us! Here's $5 to Starbucks on us. Happy Valentine's Day!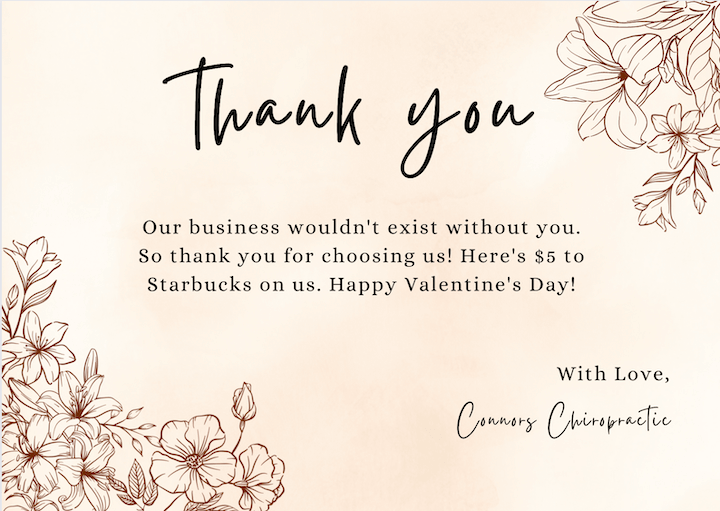 Get more inspiration with these Valentine's Day Instagram captions.
Conversational Valentine's Day messages to customers
Wanna know something cool? We do what we love (marketing) so you can do what you love (running your business). We make a good team.
Of all the [business category]s out there, you chose us. That makes us feel pretty dang special.
Nothing says love like free shipping, amiright?
We know there are a lot of choices when it comes to [product/service], and the fact that you chose us makes feel, well, loved. So here's a little love from us.
You didn't think we'd let Valentine's Day go by without sending you some love, did you?
Happy Valentine's Day! Did you know we've been [pals/partners/friends] for X years? Here are four things for four great years.
1. This coupon for X% off
2. This free guide to financial planning.
3. A little snapshot of your progress so far this year.
4. This meme.
[Simple compliment]. That is all.
Playful Valentine's Day messages to clients
It's Valentine's Day! Here's a little somethin' to say thank you (for being awesome). [Let's Party]
We break prices, not hearts.
We love what we do because of you. So technically, we kinda love you.
If you were a triangle, you'd be acute one. Happy Valentine's Day! Our love for you grows exponentially with each passing day.
We couldn't let Valentine's Day go by without showering you with cheesy puns!
You can't buy love, but you can buy [your normally expensive product] for [$1] and therefore happiness.
While we can't quite capture our appreciation in a discount, we're hoping this [offer] will give you some sense of how it feels.
[Simple compliment]. That is all.
Hey good lookin'!
Thanks for putting up with us…we know that constantly low prices can make decisions difficult.
What would we do without you?
You're the lifeblood of our business. You keep its heart beating!
Go for the nerdy pun. If we were a search engine, we'd rank you #1.
Send your clients a genuine Valentine's Day message this year
Do it! Valentine's Day greetings have an altruistic "just because" feel that is guaranteed to strengthen your connections and relationships. A little bit goes a long way, and with these message examples and templates, it's easier than ever. Just remember, the idea is to create a nice gesture, so consider it a little separate from your typical February marketing campaigns.
Want more holiday email templates?