Not only have 25% of brick-and-mortar stores launched ecommerce sites since the pandemic started, but it's predicted that 95% of all purchases will be via ecommerce by 2040.

The bottom line? Ecommerce is here to stay, and businesses who want to stay afloat will need to stay on top of ecommerce trends and technology. So what are the trends of today? Read on to learn the ecommerce website and marketing trends to align with this year.
2022 ecommerce website trends
Given the ecommerce statistics above, having a top-notch ecommerce website should be a top priority for businesses looking to increase online sales. Let's take a look at a few of the ecommerce website strategies and features that are working for businesses in 2022.
1. Buy now pay later
According to Adobe's 2021 Digital Economy Index, buy now pay later (BNPL) options increased 166% YoY in March 2021. Names like Klarna and Square have boomed recently, with their ads popping up all over YouTube. According to this CNBC article, BNPL options have been largely driven by younger shoppers.

2. Conversion rate optimization
This is one of those always trending trends. For many sites, getting more customers isn't about getting more traffic, but converting more traffic. This is what conversion rate optimization (CRO) is all about, and as UX technology becomes more accessible to us, so too do consumers' expectations on our sites.
While ecommerce SEO is still important, some businesses will be wise to reallocate some budget that would be used for driving traffic, to efforts to better convert that traffic such as by adding calls to action in more places, A/B testing elements, and improving page speed. Page speed will also improve your Core Web Vitals—a 2022 SEO trend for all businesses and industries.

3. Serverless architecture
As ecommerce grows, sites will continue to look for ways to cope with spikes in demands. With serverless architecture (for example, AWS Lambda), the cloud provider dynamically allocates resources, so you can scale elastically without having to provision or manage any servers.
The technology has proven itself in other industries, so it's natural that ecommerce websites are adopting this flexible option. The benefits are obvious: no downtime due to scaling issues, significantly decreased costs (no need for extra servers), easy debugging from a single point of entry from the developer side, among other things.
4. Headless CMS
Headless technology eliminates page templates, backend code, and other cumbersome components that can slow down a website. Given that consumer expectations are always on the rise, the headless approach enables businesses to quickly enhance their platform's performance so they can better handle spikes in traffic or increases in sales volume without having to create new pages or otherwise employ unnecessary resources for delivering an optimized experience.

5. Conversational commerce
Chatbots help to increase engagement with your customers, provide personalized experiences, and offer faster support. You can use them to answer common questions, suggest products, route leads, or make announcements. Using chatbots for direct sales is also on the rise: around 60% of millennials are buying basic goods like food and clothes via conversational software.

Ecommerce marketing trends 2022
While we see new strategies emerge each year, there is often overlap with ecommerce marketing trends from one year to the next. Below is a mix of new and emerging trends to jump on.
6. Shoppable live streams
More and more users prefer to engage with their products using a video rather than just pictures. In 2022 there will be a stronger focus on creating videos that personalize the experience while interacting with your products or services.
Remember good old-fashioned home shopping channels? Well they've made a bit of a comeback, namely via streaming channels. Think YouTube, Facebook Live and Switch. The premise is pretty much the same – except your presenter is an influencer. It's unedited, and the audience can interact with the host in real-time. It boomed during the pandemic as it offered customers a safer way to shop, but it's showing no sign of going anywhere fast. In fact, in November 2021 alone, Moriarty's made $30,000 from its livestream show.

7. Buy online, pick up in store (BOPIS)
This trend, also known as click and collect, surged 208% during the peak of the pandemic—but this convenient shopping method will continue to be important.
75% of shoppers who have used BOPIS say they will continue using these services after the pandemic.
85% of consumers who have used BOPIS say that they have made additional unplanned in-store purchases when picking up an order placed online.
An HBR study showed that one company's sales dropped by over 5% as a result of a competitor launching a BOPIS service.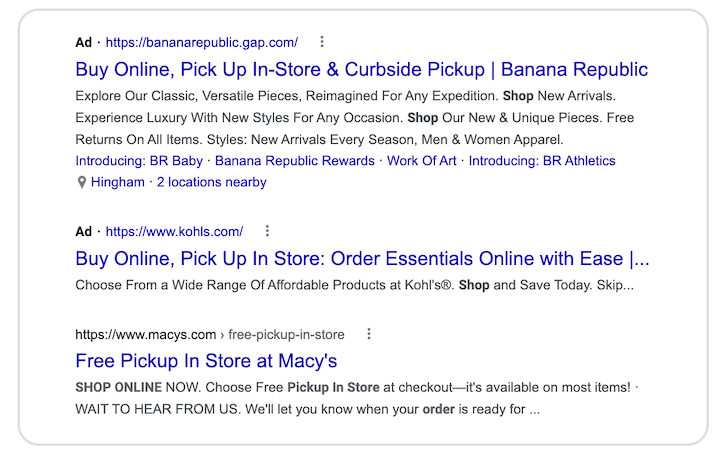 8. Virtual payment methods
Cryptocurrencies saw a huge rise in popularity over the last year, and we expect this trend to continue – but only after overcoming some hurdles.
These currencies (such as Bitcoin and Ethereum) don't yet have the big-name recognition necessary for wide-scale adoption, but they will become more widespread as people see how cryptocurrencies work. While cryptocurrencies don't make sense for every business, those who do adopt them could provide an edge over their competition due to reduced fees and faster payment processing times.
Mobile payments is another field that has seen enormous growth: According to Statista, Global iPhone users that activated Apple Pay grew by more than 65 million people in 2020, with the number of people using Android Pay also on the increase. Mobile payments now account for one-third of digital purchases, and this is expected to rise as alternative methods such as Bitcoin gain further traction.

9. B2B ecommerce
The lines between B2C and B2B marketing are becoming increasingly blurred, and the global B2B ecommerce market is expected to reach $256 trillion by 2028. This can be attributed not only to advancements in technology and the corresponding reductions in costs, but also because these companies are feeling pressure to keep up – and growing their turnover online is an increasingly popular option.
As ecommerce tools for small and local businesses become more widely available, we'll see more B2B businesses, large and small, shifting to online or creating an ecommerce revenue stream.
10. Augmented reality
Augmented reality (AR) and virtual reality (VR) are predicted to have a big year, and not just in the ecommerce world! In fact, analysts predict that the AR market will reach $198 billion in 2025. That's a lot of money!
AR is great for ecommerce because it can create an interactive and engaging experience for customers. For example, they can try on clothes or accessories without having to go into a physical store, or they could see how furniture would look in their home before making a purchase. This is an important trend to tap into.


11. Omnichannel experience
The omnichannel experience is proving a big trend for 2022. Customers want to be able to switch seamlessly between different devices and platforms when shopping. If they start a purchase on their phone, they should be able to finish it on their laptop, and companies that aren't up to scratch will miss out.

Customers say that being able to use more than one channel while shopping is important to them. This makes perfect sense when you consider how people now use technology: we often move between devices several times a day, so it's only natural that we would want our shopping experience to reflect that.
What's more, according to one study, customers who used 4+ channels spent 9% more in the store, on average, when compared to those who used just one channel.
Align with these ecommerce marketing trends
We're spending more money online than ever before, making it more important than ever for ecommerce sites to optimize performance and for traditional businesses to incorporate ecommerce into their strategy. Use these ecommerce website and marketing trends to guide you in growing your business this year and beyond:
Buy now pay later
Headless CMS
Conversion rate optimization
Serverless architecture
Conversational commerce
Buy online pick up in store
Virtual payment options
Shoppable live streams
B2B ecommerce
Augmented and virtual reality
Omnichannel experience
About the author
Irwin Hau is the founder of Chromatix, an award-winning web design and conversion design agency based in Melbourne, Australia. Since 2009, he has analyzed 60,000+ websites and amassed 780+ industry awards and mentions for his work. Irwin also manages Irwin Hau Business Consultancy, where he specializes in independent digital transformation strategy and operational efficiency through custom web solutions.